Here Are Some of Our Frequently Asked Questions!
A: Self-Storage, also known as Mini-Storage, is the rental of storage space for items you may not have room for.  It is a perfect way to store personal and business belongings. Storage units are usually rented on a month-to-month basis.
A: We offer 375 heated and unheated units. Click here for available sizes.
A: We accept, Direct Debit, Pre-Authorized Credit Card and E-Transfer (Note: Please contact main office for assistance)
A: No. We prefer to be available on site as an extra level of security to keep your belongings safe and to offer assistance if needed. 
A: We offer storage units which will accommodate most vehicles.
A: You may not store: food and perishables, flammables, explosives, toxic or noxious substances, radioactive substances , compressed gas cylinders (Example: Propane or Oxygen…), Firearms or ammunition of any kind or any other potentially dangerous products.
A: Yes.  The minimum rental term when first moving in is 2 months plus any additional days remaining in the current month.
For example: If you move in on January 22nd, you will pay for the remaining 9 days in January, along with February and March.  You will then be renting on a month-to-month basis moving forward.
A: Moving out is easy and stress-free. Simply provide written notice anytime before your next monthly payment is due.
Note: There must be a minimum of 7 day's written notice prior to the next monthly payment is due to avoid additional charges.
A: Your storage unit is secured with your own lock and key.  We do not keep a key, only you can decide who can access your unit. It is our policy to never give out any information about yourself or your storage unit.  
A: Your rent is due in advance before the 1st day of each calendar month.
A: Yes. There is a $75.00 Security Deposit which is promptly refunded once you are completely moved out and your lock has been removed.  There is also a one time $10.00 administration fee when first renting the storage unit.
A: No.  Your items are not automatically insured.  Many times, the best option is to simply let your current home insurance company know exactly what your intentions are.  Should this not possible, we can discuss other available insurance options.
What Size Unit Should I Rent?
One of the most common questions we get here at Northern Mini Storage is about what size of unit is needed.  To get an estimate of the size of unit you might need, use these general guidelines:
8'x10': Contents that would fit in a one-bedroom apartment

10'x12': Contents of a one-to-two-bedroom apartment, with no large appliances

8'x20': Contents of an average one-to-two-bedroom home, with no large appliances

8'x40': Contents of a three-to-four-bedroom home, including appliances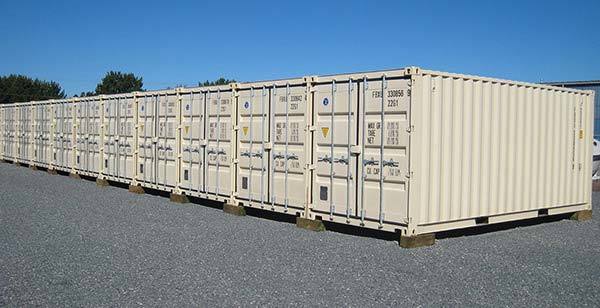 Pre-Authorized Credit Card
Sunday
Closed Sundays and major holidays